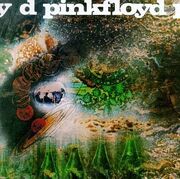 Title: A Nice Pair
Artist: Pink Floyd
Released: December 1973 (US), January 1974 (UK)
Total Length: 81:24
Label: Harvest Records (UK), Capitol Records (US)

Track Listing
Edit
Syd Barrett: Guitars, vocals.
David Gilmour: Guitars, vocals.
Roger Waters: Bass guitar, vocals.
Richard Wright: Keyboards, piano, metrollon, vibraphone, vocals.
Nick Mason: Drums, percussion, vocals.
Norman Smith: Drums, vocals.
Members of the Salvation Army:

Ray Bowes: Cornet.
Terry Camsey: Cornet.
Mac Carter: Trombone.
Les Condon: Eb Bass.
Maurice Cooper: Euphonium
Ian Hankey: Trombone
George Whittingham: Bb Bass.
The album reached #36 in the US and was certified Gold by the R.I.A.A. in March of 1994
The album's cover depicts an uncensored (in many territories) picture of a woman's breasts, while The Pros and Cons of Hitch Hiking had another woman's buttocks censored, in the United States, after a large amount of controversy.
For no apparent reason, on the American issue, the Ummagumma recording of "Astronomy Domine" replaces the original recording on the UK edition.
Each of the images on the cover depicts a well-known phrase or saying in the form of a visual pun; for instance, the centre right-hand panel on the front depicts "a fork in the road", while the bottom right represents "a pretty kettle of fish", and so on. Initial copies had a picture of Dr. Phang's dental office on the cover and then was edited to feature a gargling monk. The US covers had a purple and white Pink Floyd A Nice Pair sticker covering the pictures of naked women.