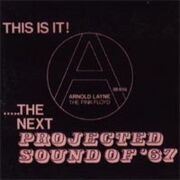 Title: Arnold Layne
Artist: The Pink Floyd
Released: March 11, 1967 (UK), April 24, 1967 (US)
Total Length: 2:52
Label: Columbia (UK), Tower (US)
Chart Position: #20 (UK)
B-Side: Candy And A Currant Bun
Although not included on the band's debut album, The Piper At The Gates Of Dawn, some consider "Arnold Layne" to be one of the finest psychedelic pop songs of its time.
On a recent solo tour, David Gilmour played "Arnold Layne". It was the eighteenth song on the set list. Specifically, "Arnold Layne" was performed live on the Jools Holland show by David Gilmour and Richard Wright on May 27th, 2006.
Candy and a Currant Bun was the B-side to "Arnold Layne". It was performed live in 1967, and known as "Let's Roll Another One" before the record company forced Syd Barrett to rewrite it without the controversial drug and sex references.